Resources
Newsletter 3 – Chapter 9
A massive thanks to you all for supporting Chapter 9, hosted by the wonderful Rotorua and wider Bay of Plenty region. This Newsletter will provide you with key bits of information about the event. If you or your team mates, friends, family or supporters wish to keep up to date with developments then please remember to visit or like our Facebook page. If this Newsletter raises any questions or, if you are uncertain about any aspect of the event, please get in touch with us via the Contact Us page. We look forward to seeing you in March for an Adventure Like No Other!
State of Play
Just one month to go until the gloves come off! It's been a long wait, what with Covid-19 and various lockdown shenanigans, but we are fast approaching the time to get excited about the adventure that lays ahead. Everything is moving ahead nicely and we are very excited about welcoming all of you to the geothermal wonderland that is Rotorua. Teams are going to cover a significant distance at Chapter 9 and the course goes far and wide. Be prepared for an ever changing environment, some extremely fast travel and some extremely slow. We look forward to seeing you all showcase the adventure potential of the region to the huge number of avid dot-watchers.
Unfortunately, we are not going to be joined by any international racing teams at this event. Borders are firmly shut and travel restrictions remain in place. Over 30 international teams had signed up and we are extremely sad not to see them experience the very best of New Zealand. That said, we still have a huge number of Kiwi teams entered and the racing will be as competitive as ever. On the flip side, nearly all the international teams have rolled their entries to Chapter 10, a historic anniversary edition of GODZone, virtually guaranteeing a massive field of teams next time around. We shall be watching the development of Covid-19 and the Government's approach to international travel before making any firm decisions about future event dates.
OK, how are things looking from a showcase perspective? We've been doing some great work with our event partners behind the scenes and are looking forward to showcasing the best of adventure racing on the world's most followed Live Coverage site. The full list of teams has been released and can be located under the Resources tab of the main menu. All teams have now been allocated their race numbers. To find out your team number please visit the Team List. If you see any errors or missing information in the team list then please update your team profile using your unique log in – all information is directly fed from your inputs so don't blame us for your bloopers, misspellings,  gaps, etc. Remember, sponsors (existing or potential) are not huge fans of teams who make mistakes or fail to provide the correct information. Furthermore, this information will be used to populate your profiles on Live Coverage so please ensure it is completed.
General Housekeeping
If you have been to a previous Chapter of GODZone you will know that we like to things to run smoothly (shakes electronic fist at Covid-19). Check out the general housekeeping items below for your attention. We encourage all teams (and in particular, team captains and/or administrators) to 'action' any items that require some form of input, in a timely fashion – it will help ensure that you have the best possible event experience.
Team List
Competitors should have updated all their team and team member information by Friday 12th February by following the instructions below:
Visit the

Team Login

 page

Insert your email address and password in the boxes (these will have been provided by email when you first registered – you can change your password, if you require, once you have logged in)

Click the Login button

Use the <Team Info> tab to update general information about your team (remember to press the Submit button – located at the top and bottom of the form – before you close the page, otherwise your update will not be saved)

Click on <Team Members Info> tab to update biographical information about your team of four (remember to press the Submit button – located at the top and bottom of the form – before you close the page, otherwise your update will not be saved)
Medical Forms Reminder
Please ensure you have completed your competitor medical form via the following online link http://godzoneadventure.com/medical-form. If you are one of the very few remaining individuals that have not done this yet (or have had a team member replacement), please ensure you submit this form no later than Friday 12th February. Our on-course medics require this information, for review, well in advance of the event start.
PLB Number Reminder
All teams should know that a PLB or emergency beacon is a mandatory requirement for this Chapter of GODZone. It will be carried in addition to the YB GPS Tracker that the Organisers provide. The use of either of these devices will be outlined at the pre-race briefing and gear check. All teams must provide their Team Personal Locator Beacon Hex ID or UIN number (15 characters – numbers and letters) on their Team Information page (see above for login details).
Yellowbrick Tracker Deposits
At race registration you will be required to lodge a deposit for the Yellowbrick Tracking Device (credit card – Visa/Mastercard only). This will not be charged unless the tracker is damaged or lost. Do not forget your credit card.
Support Crew Contact Details
At race registration we will be collecting all Support Crew Contact Details, including names, cell numbers and vehicle registration numbers.
Maps
A reminder that map sets will be based on the 1:50 000 topographic series that is common to New Zealand. Please note that the two waterproof sets provided by the organisers are the ONLY maps permitted on the course with the teams. Teams caught with additional sets of maps or photocopies will be heavily penalised and may be disqualified. Support crews are welcome to annotate their own paper maps or use other maps of their own and pass on information to their team if they feel it adds any value in Transition Areas only. So, to be clear, teams must only use the two sets of waterproof maps whilst on the course. When teams are in transition, they are welcome to access other maps or transpose information on to their course maps. The viewing of electronic devices, online maps or satellite imagery by teams in a Transition Area is prohibited under Race Rules IIIB (6.) which specifically outlaws the use of such devices and information. Please be extremely careful about use of devices when your team arrives into a Transition Area.
All teams will be provided with three (yes, 3) sets of topographical maps for the entire course. This will comprise:
Two sets of waterproof maps available for use on the course. Waterproof maps remove a lot of the hassle and stress related to race preparation and diminishes the worry about how you will keep your maps dry during water sections
One additional paper set for Support Crew. The additional 3rd paper set provided will allow your support crew to plan, prep and support you throughout the race
Map Reading Tips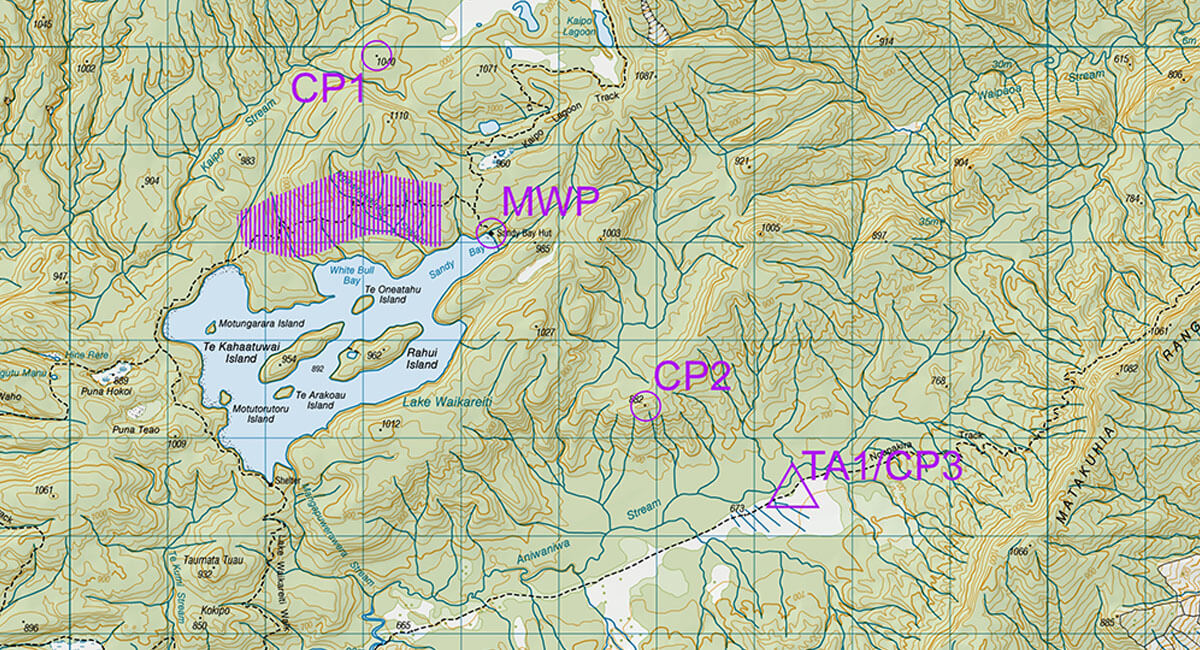 Ok, we're not going to give you any map reading tips as we know you are all far too good for that and absolutely none of you are going to get lost on Stage 4. None of you. Ho ho ho. However, it might be good to give those of you who are new to GODZone a very basic introduction to how the most important map symbols work. In the above example you will see:
A basic checkpoint: CP1. There will be a standard orienteering flag located at this location on the ground. A specific description of the location will be provided on the relevant map and in the Team Handbook. Teams will be required to 'punch' their Race Passport (you have two, one to be handed in completed at the finish and one as a backup should you lose the other. Tim…do you hear us, Tim? TIM!!) in the appropriate boxes that match the CP number.
Mandatory Way Point or "MWP": These are virtual checkpoints that DO NOT have an orienteering flag or control. No punch exists and there is no box to be punched in your Race Passport. These are merely virtual checkpoints that we want you to pass nearby (within a hundred meters or so) so that you do not stray into private land, Maori land, dangerous terrain and are usually sited where a basic checkpoint (see above) would offer little navigation value or that the checkpoint would be at high risk of being removed by some unwitting idiot/selfish bastard.
Another basic checkpoint: CP2. Please note that all CP's are mandatory on the course (see below for exception) and that CP's must be visited in order. Ie, CP1 must be collected before CP2, and so on.
One stage of the course includes multiple checkpoints in an area of challenging navigation. Teams will be required to get a certain number of these checkpoints and are welcome to gather the checkpoints in any order. These checkpoints will be named A, B, C, etc…ad infinitum. Yes, yes, very original.
Please note the hatched area. This is an area which is deemed 'Out of Bounds'. Travel in an Out of Bounds area will usually lead to disqualification and some form of prolonged torture, reflecting the severity of the offence. Do not travel in these areas. They are in place for many reasons and include, inter alia: No permission exists from landowners; private land; hunting block with active hunters; biodiversity threat; stock and cattle (ie, bulls and deer) that might get angry if you hop over the fence; etc. Please please please do your best to avoid travel in these areas otherwise the future of the event could be threatened.
Transition Area: TA1/CP3. This is where you will usually meet your support crew and have a little cry. Please remember that you will have to punch your Race Passport as you enter the Transition Area and again when you depart. This is to let TA staff know exactly when you have arrived and when you have left. Teams are not permitted to 'double punch' their Race Passport on arrival or departure. No support crews bringing Race Passports up to be punched, thank you. Once you know all of this, the rest of it is easy….
Accommodation
If you haven't already done so we highly recommend that you firm up your accommodation options and how best to streamline your travel arrangements. Rotorua is hugely popular tourist destination. We strongly recommend you finalise this part of your trip planning as soon as possible to optimise your choices in terms of where you would like to stay and when. The longer you leave it, the fewer options you will have and the price invariably only increases.
As detailed in the Event Schedule you will need to secure accommodation for Thursday 4rd March, the night prior to Race Start on Friday 5th March. You will also need to organise accommodation for after you finish, which your support crew could sort once they have a better idea of whether you are going to zip around the course in a few days or make the most of the maximum time available.
Security
With the organisation no longer managing the majority of the competitor gear movements and equipment storage during the event, please remember it is the responsibility of your support crew to manage the safety and security of your equipment at all times. Be sensible, big city rules apply. We recommend that you have suitable locking options for any equipment stowed on the outside of your vehicles. Do not park and leave your vehicle in vulnerable locations with no persons present.
Duffle Bags
IMPORTANT: Given some new access considerations and an inability to get support crews into a particular area, GZ Pursuit teams are now required to bring 1x (yes, one) 100 litre duffle bags for use during the race. The bag must be robust, made of waterproof fabric and have strong carrying handles. An example of what type of duffle bag is required can be viewed by following this link. This bag will be used to transport equipment and supplies into a remote area by the event organising team. The bag will be returned to support crews at a later stage during the event. We can't guarantee that your bags will be stored indoors during the event so opt for the most 'waterproof' material and zips that you can find. Please contact Keren if you have any questions about the suitability of your bags.
As outlined in Newsletter 2, GZ Pure teams must bring 2x (yes, two) 100 litre duffle bags for use during the race.
Event Sponsors & Partners
We'd just like to take this opportunity to acknowledge the amazing support we get from our event partners and sponsors. The fact is that without them, GODZone would not happen. Entry fees alone do not come close to covering the cost of putting on an event and media showcase of this magnitude. We are lucky to have developed some wonderful long term relationships with many of our partners and we hope that you can recognise their support, down the line, in whatever way you can….whether that be through product choices, purchases or sharing their brands on your social media outlets. It helps us to keep the adventure racing ball rolling ever faster and further.
Before we get into our long term partners, we'd just like to make an extra special hat tip and thank you to the great people at Rotorua Lakes Council. Steve, Jason and Vernei have been an incredible group to work with and have helped navigate the myriad of complexities that go with moving our event to the North Island for the first time. And a big thanks to our friends at Merrell NZ who are once again the exclusive apparel sponsor for GODZone Chapter 9.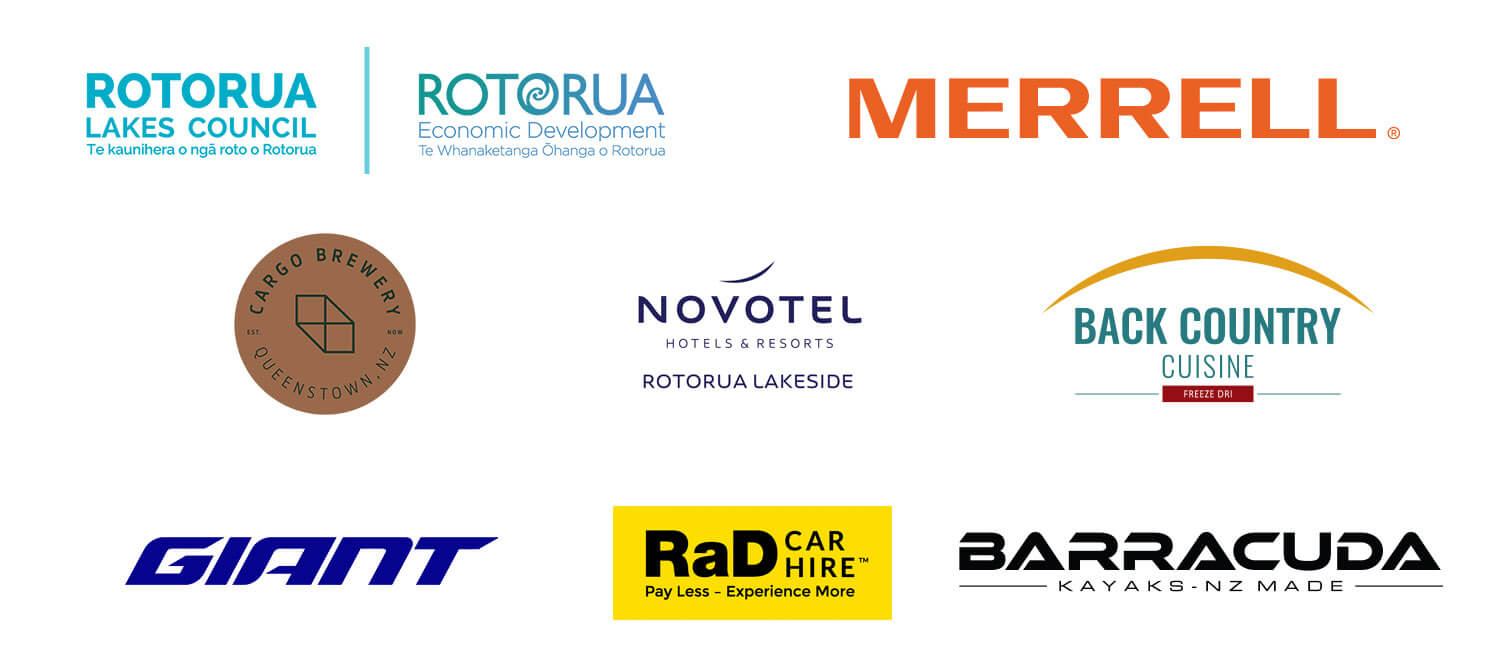 Post Race Celebrations
Post race celebrations will be based at Waipa Hub , The Redwoods Whakarewarewa Forest which is located on Waipa State Mill Road. This location is extremely close to the finish line and offers easy mountain biking access to The Redwoods for supporters and families including access to a cafe/restaurant, bike rental shop and other amenities close by.
Post race celebrations will commence at the finish line on the afternoon of Saturday 13th March. We will be working with local food businesses as well as our special GODZone beer sponsor, Cargo Brewery, to create a wonderful finish line vibe, encouraging locals, supporters, family and fans to pop down and celebrate the end of your Chapter 9 journey. All are welcome with good Kiwi style food and coffee available. We will also be hosting the 'Champions' post-race celebrations on Saturday 13th March . This will celebrate the achievements of the trophy winning teams and give friends, family, fans and locals a chance to quiz them on their Herculean endeavours.
Everyone is welcome.
Social Schedule
Welcome first teams home @Waipa Hub – Wednesday 10th March
Food and coffee available @Waipa Hub – Thursday 11th March
Food and coffee available @Waipa Hub – Friday 12th March
Champions celebration and awards, Food & Coffee available  @Waipa Hub – Saturday 13th March (2.00pm – 3.00pm)
Event Schedule
Date
Time
Event
Thursday (25th February)
6pm

A broad course outline giving distances, disciplines and timings

 during event sent to team captains/administrators via email
Thursday (4th March)
8.45am-9.00am
Support Crews check in at entrance of the Rotorua Energy Events Centre.  Teams are required to bring at min 1 support crew member, max 3 (We will endeavour to fit more in subject to space available in venue)
Thursday (4th March)
9.00am – 10.30am
OFFICIAL  ROTORUA WELCOME (mandatory for all competitors plus at least one support crew)

PŌHIRI – TRADITIONAL MĀORI WELCOME CEREMONY

Followed by refreshments in tradition with the Pōhiri Ceremony

Thursday (4th March)
10.45am – 11.30am
RACE ORGANISATION WELCOME & BRIEFING

Please leave all equipment required for Race Registration & Gear Check in your vehicle until after the Welcome and Briefing Ceremonies are completed.

Thursday (4th March)
11.30am- 1.15pm
Registration & Gear Check (mandatory for all competitors + 1 support crew) will include the following:

Sign race Event Waivers
Support Crew contact details confirmed
Lodge Yellowbrick deposit with credit card
Gear check (see important notes below)
Mesh bag collection (GZ Pure teams only)
Inflatable Canoe collection (GZ Pursuit teams only)
Media formalities/photos
Safety checks (see important notes below)

AR Duo Kayaks will be available at Race Registration for team inspection.

Race Maps, Passports, Course Planner and Race Bibs can be collected once teams have completed formalities.

Friday (5th March)
Early AM
All teams & support crew departure to the start line
All teams will be served on a first come first served basis at each station at Registration & Gear Check. All teams will receive a broad course outline giving distances, disciplines and timings approximately one week before the start of the race. This outline planner will give key bits of information which will allow teams & support crews to expedite their planning prior to arrival at the event. The outline planner will omit some key stage details so teams will still be left guessing about the route until final map and handbook give out.
Important Notes
Our water safety crew will conduct tests on Thursday during Gear & Safety Check: confirmation of correct safety equipment, minimum river rescue skills and knowledge of emergency procedures. Please ensure you know what you are doing otherwise you will not be able to start the race.
Mandatory Gear & Gear Checks
Teams should allow for 4 glowsticks per person. A few spares would not be a bad idea, just in case one or two are faulty to water sections become longer than expected
A reminder that each competitor is  required to bring 2 (yes, two) red, rear bike lights. One must be attached to the bike and one must be attached to either the rear of the competitors helmet or backpack. These must be on at ALL times if riding on any roads, even in the day time. You will be asked to demonstrate functioning rear lights before leaving certain Transition Areas. No working rear lights, no departure. Make sure you have some back ups with your support crew. Logging activities are a major operation around Rotorua. Very large trucks operate 24hrs a day and move extremely fast and can create a lot of dust. Keep left at all times and have your rear lights on
GZ Pursuit teams only will paddle our blue inflatable canoes. We recommend that teams bring 2 good pumps to inflate these canoes. It us up to GZ Pursuit teams to decide whether they carry both pumps on the course or just one. Support crews are permitted to assist in inflating and deflating canoes in any designated Transition Area
There are multiple pump options available; it all depends how big, fast and durable you want. A typical pump type can be found by following this link. The all important valve that you will attach your pump nozzle to is a Leafield C7 type. Follow this link to see the perfect nozzle to fit the blue inflatables
GZ Pursuit support crews will be expected to transport the blue inflatable canoes at times on the course so please ensure you have space for these in your support vehicle
Following on from this theme, support crews for GZ Pure teams are also permitted to inflate and deflate packrafts within a designated Transition Area. Obviously no support is permitted anywhere else on the course
We are well aware that some teams are looking for ways to minimise the weight/size of their packs. Hey, it's an adventure race and that goes with the territory. However, all teams should ensure that all gear is robust and reliable enough to withstand many days on an expedition race. Teams should ensure that all gear meets the necessary standards of equipment promulgated on this website
No inflatable buoyancy aids. As far as we are aware they have never been accepted at an adventure race anywhere in the world and they certainly don't meet the requirements for GODZone
Teams should note that wearing a backpack whilst paddling the inflatable canoes or packrafts is prohibited. Teams should ensure that they have a good way of securing all backpacks, dry bags and equipment in their boats so that they don't become separated from the team in the event of a capsize. However, it is imperative that dry bags and backpacks are not packed on to rafts or canoes in a fashion that restricts easy exit for a competitor
There is one dark zone in the race (though weather conditions and other factors may change this). We estimate that there is roughly a 50% chance of teams getting caught in the dark zone. Teams may opt to advance on foot if caught in the dark zone or they opt to camp. Tiredness and speed of travel will be taken into account when making a decision. With a potential 11hr stop in a remote location, we highly recommend that teams bring a camp stove and some dehydrated meals to help break up the awkward silences with the team navigator
Gear Check for Registration
We don't like mucking about any more than you do. We have tried to remove a lot of the faff involved with Gear Checks but, this doesn't mean we don't take equipment seriously. We do. It is your responsibility to ensure your equipment clearly meets the minimum standards required in the Mandatory Gear List and teams should remember that the List represents the minimum required for safety and conditions may well merit that more be carried. Only the following items should be brought to Race Registration for sign off:
Tent x 1
Sleeping Bags x 4
Waterproof Jackets x 4
Water Activities Helmet x 4 (white water certified)
Packrafts (these will need to be inflated so bring your pumps)
Pumps x2 (GZ Pursuit Teams)
Throw Bags x2
Personal Locator Beacon
White Strobe Light x2
PFD with knife and whistle attached x4
Kayak Bailing Devices x4
Wetsuit x4
Teams are asked to bring these items to Registration to make sure they meet the minimum standard required. These will be signed off and the spec/type will be noted down by officials so that teams do not go back to their accommodation and switch items around because they are lighter (we've been racers for a long time and we know the tricks of the trade). We urge all those taking part to make sure that their equipment is up to scratch.
There will be random gear checks out on the course where various items of mandatory gear will need to be presented to officials. If equipment is missing or fails to clearly meet the criteria set out in the Mandatory Gear List then you should expect to be held up until replacements can be found, attributed a time penalty and may ultimately be disqualified. Everyone is looking for a competitive edge but scrimping on mandatory gear is not an area where you should aim to cut corners, it could save your life.
Other Items to Consider
Support Crew Vehicles
Baring some kind of flood of biblical proportions (and if that is the case teams (and the organisers) will have other things to worry about), support crews do not need to bring a dedicated 4×4 vehicle for movements of equipment around the course. All support crews will receive 1 x Official Support Crew Vehicle Pass. This must be displayed in the front left dashboard of your vehicle. This will allow you access into a Transition Area for set up. No convoys of support crew vehicles please. If you have more than one vehicle following a team, please use your discretion and park the none-official vehicle in a practical location away from the Transition Area. Some sites are extremely tight and we need to ensure that there is room for every team. Please keep in mind that vehicle size will dictate final placement and massively oversized vehicles may not be able to be accommodated directly within the TA site itself. This is a wilderness event, not a rerun of Mad Max: Fury Road!
Yellowbricks (YB Trackers & PLB's)
During any kayaking, packrafting or canoeing stages the YB Tracking Device must be secured inside a competitor PFD, not inside a backpack or stored inside a dry bag that is stowed inside a hatch. When you are biking or trekking, it is very important that you place your Yellowbrick Tracking Device in the top pocket of a backpack. This ensures that battery life is preserved (vital for safety reasons) and also means that the watching hordes can track your progress. Nothing stresses out your fans, friends and family more than when your tracker stops moving for hours on end simply because you've dumped it in the bottom of your bag. When teams are on the water, they should ensure that one boat is carrying the YB Tracker and another is carrying the mandatory PLB. If boats become separated for whatever reason, both will then have a means of emergency communication.
Water Safety
Water plays an important part of GODZone and Chapter 9 is no different. All competitors should be confident in the water, be capable of swimming 500m and know how to use a survival stroke. You should also be well aware that river crossings are an integral part of New Zealand's wilderness. Even well maintained/used tracks sometimes demanding that you cross a wide river. Take the time to work out how to cross rivers safely as a group.
Drinking Water
As a general rule the water in New Zealand is of excellent quality and few people here ever treat their drinking water when tramping out in the hills. However, it is for the teams to decide if and when to treat any they encounter. Fresh water will generally not be made available at Transition Areas. Support Crew should transport in their own water to all Transition Areas. If taps with running water are available these will be detailed in the Handbook but the default position for support crews is to supply their own.
Darkness and Lights
Teams are reminded to have adequate lighting for the duration. There will be some moon during the event but it's going to be head torch all the way. There will be approximately 10hrs of darkness each night. Support crews are recommended to have some form of charging or backups available given the duration of the event.
Dry Bags
We recommend that you have very good quality dry bags. In some sections your backpacks will get very very wet. The very lightweight variety of dry bags are OK for a backup inside your bag but when you're in an open canoe or swimming, rest assured that your gear will get absolutely soaked. The general rule is to bag three times so please take note.
Magnetic Declination
As stated elsewhere on our website, this is a significant number in New Zealand and your team navigators need to know how to adjust for it. The maps are printed to grid north and you will need to know to compensate for the declination either directly on the maps or with your compass.
Spectators
Given the number of teams racing at GODZone this year and the big following that the event has on  social and other forms of the media, there could be a lot of people very keen to catch up with the event as it passes around the Bay of Plenty Region. That's great and we are keen to welcome as many people to watch as possible. However, we politely remind all teams and their followers that they are not permitted to assist any of the teams in any way once they are out on the course. This includes providing accommodation, hot drinks, food, supplies, etc, as well as the more usual forms of physical assistance. All assistance should take place in dedicated Transition Areas once the race has started and at no other point on the course unless specified in the Team Handbook. We ask all team followers and supporters to liase with teams in a manner that ensures other teams and officials do not suspect foul play. Your supporters turning up to cheer you on is fantastic and we actively encourage it. Turning up with food and drink at some remote location in the dead of night will be seen as cheating and any teams found flaunting the rules will be disqualified, named and shamed.
Medical Advice & Assistance
Whilst enjoying the course at our leisure, we have noticed that there are 3 small hazards that pop up in few places. Namely: bees, wasps and stinging nettles. On their own and if you are not allergic, these are not to be feared. However, you should be mindful that some hives exist near the course and that wasps are present in many New Zealand forests. We have experienced some large patches of stinging nettle, usually down in small creek beds and alongside streams. The nettle seems to thrive in damper and more sun sheltered positions. It is very rare to find along any ridge line, even in the bush. A solo sing can be annoying but if you're not watching your step at night and ended up falling into a bush, the outcome could be quite unpleasant. If you have a history of allergic reactions please ensure that you carry appropriate means to deal with a sting.
The organising and safety team have noticed a creeping culture of medical dependency at GODZone. Teams increasingly expect there to be a medic on hand at all transition areas to repair minor ailments, fix sore feet and deal with the various issues that adventure racers endure. Many now park themselves down on a chair, refusing to move until their blisters are miraculously healed by a doctor (whilst they scoff some food and have a snooze).  This has to stop. Medical staff at GODZone are primarily there to deal with EMERGENCIES and medical problems that could have significant consequences. Teams are expected to manage their own minor ailments, foot care, etc, and should note that prevention is much better than cure. Teams should also note that medics will not be on hand at all TA's to deal with these sorts of problems and there should never be an expectation that a TA will have a medic – they may have been called away to deal with a serious issue elsewhere. The onus is on the teams to look after themselves at all times. Competitors who have feet repaired during the race are actually gaining an unfair advantage on other teams. Time penalties may be applied to any team who requires such assistance because they have failed to look after themselves. Rest assured, we want as many of you to reach the finish as possible and as healthy as can be expected – but you need to look after yourselves and your team mates, both on the course and in transition. We have added some general medical advice and specific foot care advice, from our Race Doctor, under the Resources tab of this website.
Final Thoughts
We get a lot of feedback from competitors after each Chapter of GODZone – particularly in regards to the perceived difficulty of the course. You won't be surprised to hear that teams that don't have a great race tend to think the course was too hard. Those that exceed their own expectations will tend to effuse about how perfect it all was. The fact is the vast majority believe that we have gauged the challenge of GODZone about right and we've received heartening emails from those who have fallen short saying that the event should not drop it's standards and that it is up to the teams to raise their game to the level required. We are not the sort of event that wants to appeal to the lowest common denominator so don't come to Rotorua expecting a holiday (you can do that afterwards in style) – it's going to be tough but, hopefully, a lot of fun and ultimately hugely rewarding. Remember, you signed up for an Ultimate Edition of the event so you should expect something typically challenging. Don't get too hung up on the enormity of it all, try to break the event down into a series of stages and focus on getting those done, bit by bit. Oh and try not to fall into the Venus Flytrap of a comfy support crew supplied Transition Area. When you are a bit pooped and looking for some TLC, it can be hard to pull yourself out of the gravitational pull of a warm bed, hot food, etc. Get in, get sorted, get busy and get out. You won't finish otherwise.
Make sure you are well prepped for water safety, have all your equipment and supplies well organised before arrival and remember to fit in some good chill out time before the start. Heading into a GODZone Chapter, 100% rested and only 70% fit, is much better than the other way around – 100% fit but only 70% rested. GODZone wears your immune system down pretty quickly and you need to start with that side of the ledger as high as possible.
We look forward to seeing you in a few weeks for An Adventure Like No Other.