Chapter 9
Host Location
" I have wanted to see GODZone in Rotorua for a long time. Finally, we have committed and we are pretty excited about it! Living in 'Vegas for three years in the early 2000's I got to explore much of the surrounding wilderness and have always thought there is the basis for 2 or 3 great courses there. Many factors will differentiate Chapter 9 from previous editions of the event. The nature of the terrain will provide contrasting navigational challenges and the water sections will be very scenic. I am particularly excited by the variety of environments racers will get to experience in GODZone Rotorua. From that point of view alone the race will be unequalled. "

" Add the cultural component that comes with racing in the Bay of Plenty and we have the full package. From the moment we first met with Rotorua Council we have been blown away by their hospitality. We feel very welcome here and know that the same aroha will be extended to competitors and supporters alike. And, if you think this might be a bit easier than the South Island races to date, don't be fooled. We will be taking you to extremes. This will be a GODZone to remember. "
Rotorua - NZ's most beautiful city
There's nowhere else in the world where earth, wind, fire and water exist in such a potent way. Rotorua is the place to combine all the elements, bringing people and place together to create the ultimate experience.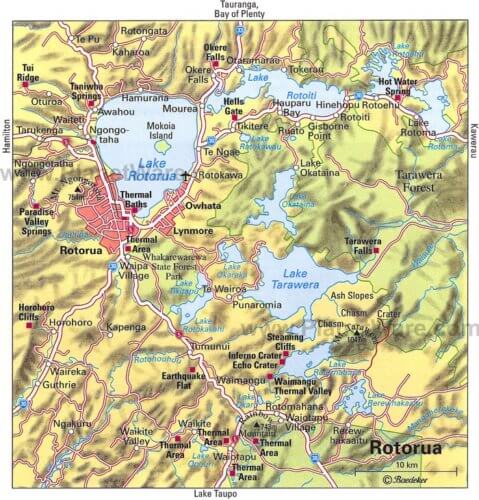 New Zealand is seen as clean, green and 100% pure, and staying true to that Rotorua has been voted New Zealand's most beautiful city six times in the 11-year history of the Keep New Zealand Beautiful competition. Along with stunning floral displays, perfectly manicured gardens and litter free streets, sustainability also has a crucial role to play in Rotorua being perceived as a 'beautiful' destination. We are still the current holder of this award.
One of the things that strikes most newcomers (other than the distinctive sulphur smell that is noticeable for the first day or two) is the high quality of both private and public gardens and the standard of maintenance of most homes and other buildings. It's a mark of the pride that we, the people of Rotorua take in our city and our community.
The total size of the Rotorua district is 261,906 hectares. This consists of 41% forest, 43% agriculture and 8% lakes. Rotorua's central business district (CBD) is located on the southern shore of Lake Rotorua. The city is nestled in a huge, ancient caldera 20km across at its widest point and 16km at the narrowest, with Lake Rotorua nearly 300 metres above sea level. The forests, coupled with extensive trees and gardens in the city, suburbs and parks, support a rich and varied bird life, both native and introduced. Some of New Zealand's rarer birds, such as the formerly endangered kokako and the spectacular native falcon, karearea, thrive in the district.
The region includes:
18 lakes
800 hectares of parks, gardens and reserves free for public use
3 Major rivers
7 geothermal fields with hot pools and spectacular steam eruptions
100,000 hectares of native and exotic forests – with the largest commercial plantation forest in the Southern Hemisphere
100,000 hectares of farmland
120 wetlands
Stunning volcanic landscapes with Mt Tarawera, Rainbow Mountain, Mt Ngongotaha and Mokoia Island as local icons
Hundreds of kilometres of walking, cycling and mountain biking tracks
For more information about the myriad of things to do in Rotorua, please visit their excellent website here.
What Rotorua Offers
Geothermal Wonders
7 geothermal fields with hot pools and spectacular steam eruptions